Building a home gym doesn't need to be expensive. You don't need all the rows of expense equipment that you find in many gyms today to give your body a complete workout. I will show you how to build your own home gym for under $2,000.
Benefits of Having a Home Gym
If you are currently paying membership dues to belong to a gym and are considering building your own home gym, here are some things to consider.
Time Savings
Unless you happen to live next door to a gym, you will have to travel to get there. Driving and dealing with the traffic will increase the amount of time you need to allocate for you exercise time. Probably you will spend around the same time commuting, finding a parking spot, changing into your workout clothes, etc. as you will actually exercising.
Cost Savings
Though the upfront costs of having a home gym are considerably more that being a member at a local gym. The long term savings can add up fast. Think about how much your current monthly gym membership costs you. Let's assume you currently pay $30 monthly.
Now add in how much it costs you per month in fuel for your vehicle to get there and back each month. I would think that for the average person the cost of commuting to and from the gym would be a lot more than the actual membership cost. Let's assume it costs you $45 monthly for fuel.
That works out to $900 per year that you are currently spending. More if your spouse goes with you.
Having a Home Gym might give you better results.
I'm not saying that you won't get great results from belonging to a gym. What I mean by saying that is if you have the convenience of having it in your home, the odds of you exercising regularly will be greatly increased.
Even if you only had 1/2 hour available to workout today, it would be possible to get a decent workout done in your own gym. But if you had to go to a outside gym, probably that wouldn't even be enough time for the traveling, resulting in you not going and failing to get any workout accomplished.
Budget Home Gym – Introduction
When starting your home gym you need to decide on what kind of exercise you want to do to have the basic equipment to get you started. Down the road you can add on to it as the savings add up.
As aging individuals, building and maintaining muscle mass is very important to our well being. So for this home gym the goal will be around building muscle.
You can purchase the equipment new or look on places like Kijiji, gym used surplus stores, etc. for hugely discounted prices on used equipment. DO NOT BUY the small light weight exercise equipment. You will be very sorry if you do. It is a TOTAL waste of money. You need to buy the heavy duty equipment designed to use Olympic bars and plates.
For my gym I have BodySolid equipment and would highly recommend it as it is built very strong to stand up to heavy abuse and reasonably priced.
TRUST ME ON THIS. I have owned both over the years and made that mistake. Buying good used equipment will be around the same price as the lighter stuff will be new. But the commercial grade equipment will be more comfortable and is designed to handle heavier weight and it will stand up to continued usage.
Best Room or Area for your Home Gym
First off you need to find a good area to setup you gym. Basements or garages are perfect areas for a home gym. They both have strong concrete floors that can support the weight equipment that you will be placing there. The floors are also excellent for dancing and aerobic exercises as they are strong. The bigger the space you can allow, the better.
The Best Home Workout Equipment – The Essentials
These are the items that I believe are essential to any home gym focused on building muscle. I have included pictures of the equipment I am describing so you get an idea of what you need to buy (doesn't need to be the same brand). The prices I have quoted are based on new equipment using Canadian dollars. Remember if you shop around for it used, you will get it for half price or so.
Power Rack
$1,300 – This is a crucial piece of equipment for any gym, especially for all of us as we age. Having a squat rack protects you in the event you drop the weight or in the middle of the exercise can't finish the lift. It is an expensive piece, but it ensures you don't get injured. I would recommend buying the power rack with the lat attachment that uses your Olympic weight plates.
Adjustable Weight Bench
$359 – You will need a strong sturdy bench that has multiple angles including incline, decline, flat and 90 degrees
Olympic 7 ft Bar
$149 – A Olympic bar weighs 45 lbs and is 7 foot long. These can be purchased at many different price points from about $150 to $1,000. For most of us we don't need to have that very expensive bar as we will never have that kind of huge weight loaded on it. So look for a bar that you are comfortable with that is rated for 500 lbs.
Olympic Rubber Coated Weight Plates
$250 ($1.28 per  lb) – For weight plates I would recommend purchasing 195 lbs of rubber coated weights to start. This would allow you to have a total weight on your bar of 240 lbs. Buy them in the following sizes to allow you to load whatever weight you want on the bar 2 – 45 lb, 2 – 25 lb, 4 – 10 lb, 2 – 5 lb, 2 – 2.5 lb. This will probably be enough weight for most, but if you find that over time you need more, simply purchase additional weight plates when you get to that point.
Dumbbells
$154 – Start with light dumbbells for you shoulder exercises. You can either purchase individual sizes or the all in one dumbbells. If you are purchasing individual dumbbells, start with 10 lb, 15 lb, 20 lb and 25 lb. As you progress, just purchase heavier dumbbells
You can purchase all this for $2,200 brand new (based on Canadian dollars). So if you look around for good used equipment, you should be able to put a very nice gym together for under $1,500
The best thing about having your own gym is the convenience of being able to workout whenever you want. No traveling, no waiting for the equipment and all in the privacy of your home.
Do you have a home gym? What equipment do you have and feel is essential? Please tell me in the comments below.
Like this post? Please don't forget to share it!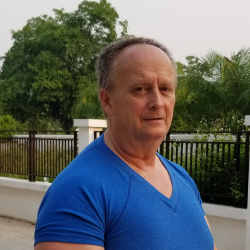 Latest posts by Doug Paulson
(see all)